ROOTS
ROOTS of 810s
Shoemaking by MoonStar VOL.1
810s (eight tenths) is a collection of everyday footwear with functions for professionals, based on the expertise and know-how of the 145-year-old Japanese company MoonStar (Headquarters and production site: Kurume, Fukuoka Prefecture), which has been making shoes for professionals in kitchens, hospitals, etc. The 810s concept is 'just the right' footwear for everyday use.

How was 810s born? Below you will find the origin of the name and the roots of the design, as well as the line of professional products on which the 810s collection was modeled.
ーJun. 29th, 2023 UP
Naming 810s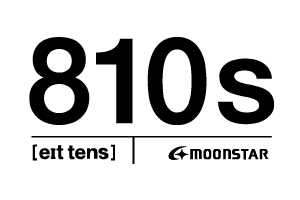 810s (eight tenths) is named after the Japanese expression of "8/10s or 80% fullness", which describes a state of just appropriate. It's neither overfull nor hungry, neither too much nor too little. 810s is a product line that embodies just the right comfort.


Eight tenths [eɪt tens].
・8/10s
・Right amount, right quantity
・just right without being over or under

Products that can only be created by MoonStar
Extensive know-how gained from making shoes for professionals
Moonstar's leading products are carefully made, one by one, by skilled workers at its own factories. The vast shoemaking expertise developed over a long history has supported the feet of professionals such as chefs and hospital staff. MoonStar's professional line includes kitchen shoes and nurse shoes, equipped with the functions required in each working environment.

Re-engineering of the excellent features of professional footwear
Shoes for professionals are often associated with a negative image, such 'unfashionable', 'too plain' or 'doesn't go with my outfit'. You may think they are not relevant to you, as they seem to have been designed specifically for certain types of professionals. However, each function of those shoes is well thought out and can be used in everyday life. By rediscovering them and carefully reconstructing the design, leaving only what is necessary for daily use, we've shifted the value from "unfashionable" to "refined".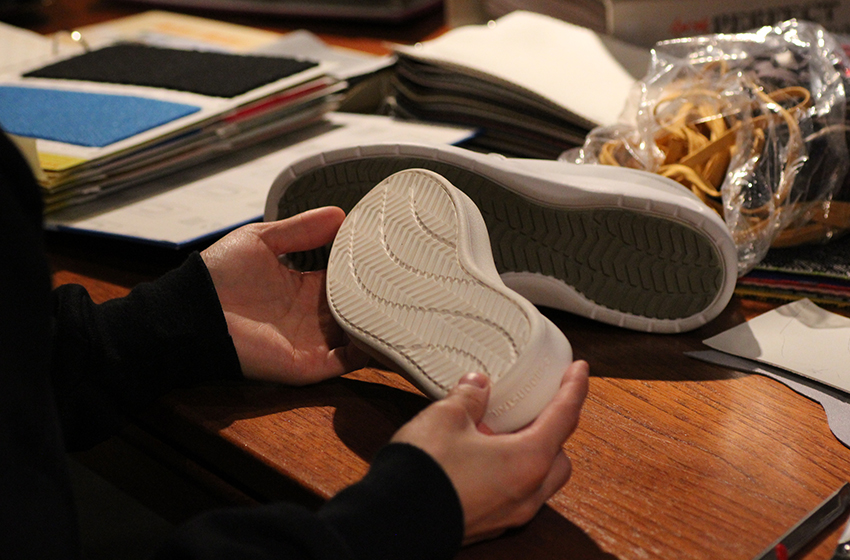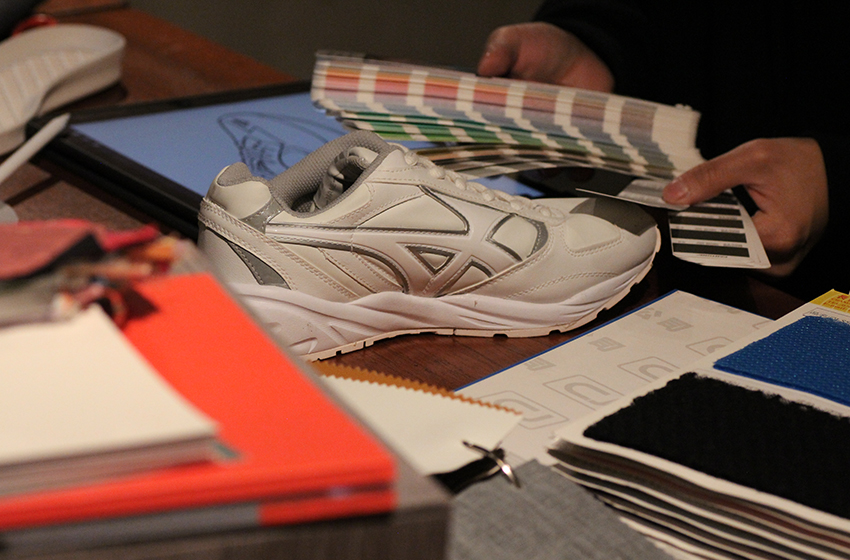 Roots of each style in the 810s collection
KITCHENSTAR 01
T001_KITCHE has its roots in KITCHENSTAR, the kitchen shoes that have been sold in Japan for many years. The "multi-stopper sole" grips the surface of the floor to prevent slipping, even in areas that are wet with water or oil. The upper is made of durable synthetic leather. The insole is treated with Ag+ antibacterial deodorant: the antibacterial action of silver ions inhibits the growth of odor-causing bacteria and deodorizes.


SC ATHLETIC 007
The roots of ET002_STUDEN are SC ATHLETIC, which have been familiar to many people in Japan as school ground shoes. The ground contact area of the SC ATHLETIC sole is flat in order to ensure that active middle and high-school students do not slip or pedal off the bike. The heel counter provides stability during exercise. SC ATHLETIC also has 'safety bright' reflectors to increase visibility at night to protect against road accidents.


OMOIYARI 510
ET003_HOSP has its roots in OMOIYARI, developed in Japan as work shoes for nurses. OMOIYARI is packed with features to cope with long working hours and quick movements of nursing professionals. The instep band prevents the foot from slipping out. With the stretch material in the heel area, the shoes can also be worn with the back flattened like slip-on sandals, making it easy to put on and take off. The front upper is made of stain-resistant synthetic leather. Breathable mesh material on the sides prevents stuffiness and ensures comfortable wear.


KITCHENSTAR 02
ET004_CAF was developed based on a sabot style from the long-selling KITCHENSTAR collection. Since it can be put on without using hands, it is ideal for workplaces where shoes need to be put on and taken off frequently. KITCHENSTAR 02 also offers the same high-quality features as KITCHENSTAR 01.


810s Design philosophy
'Just the right' balance between functionality and design
810s incorporates the design elements and values of industrial products, exemplified by 'minimal structure, beautiful and easy to use'.

The design of the 810s began with reading internal documents about various products developed in Moonstar's long history, sometimes talking to the designers of the time, imagining when, where and how they would be worn, and narrowing down the candidate models on which the new 810s would be based. Materials, stitching, shape and other details are examined down to the smallest detail, and prototypes are repeatedly made and improved. It is through this process that we find the right balance between the design that suits modern lifestyles and the functionality of the base model.

Take KITCHE, for example, based on the KITCHENSTAR01 kitchen shoes. KITCHENSTAR01 has an oil- and water-resistant upper to keep it clean, while the "multi-stopper sole" grips the floor surface to prevent slipping even when wet with water or oil. It also has perforated holes in the sides to prevent uncomfortable stuffiness caused by prolonged wear.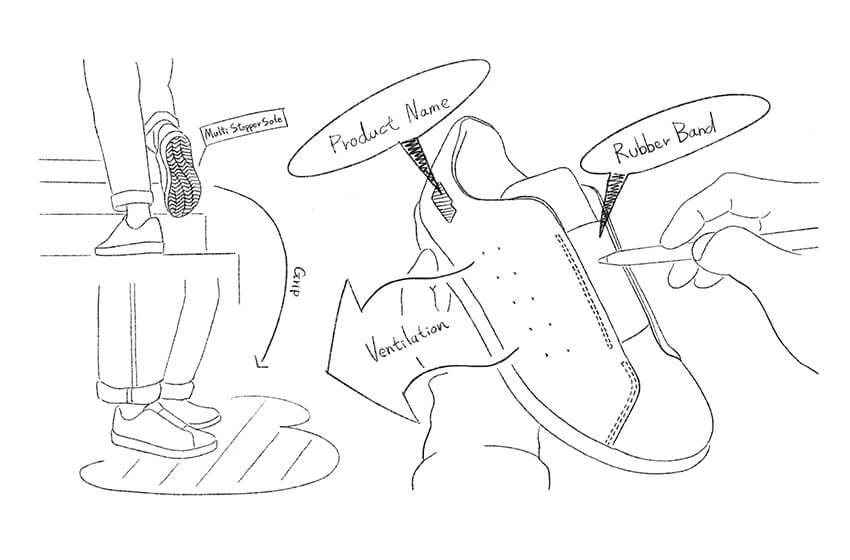 While keeping these features, KITCHE has been redesigned as a simple, timeless style of court shoes that fits into everyday life. The upper is minimally decorated and the stitching is hidden as much as possible, while the instep elastic band is impressively visible, giving the whole look a solid feel.
With the basic yet nuanced coloring, we aim to create just the right line of shoes that blends in with the wearer's styling, does not stand out too much, but allows the individuality of the shoes to shine through.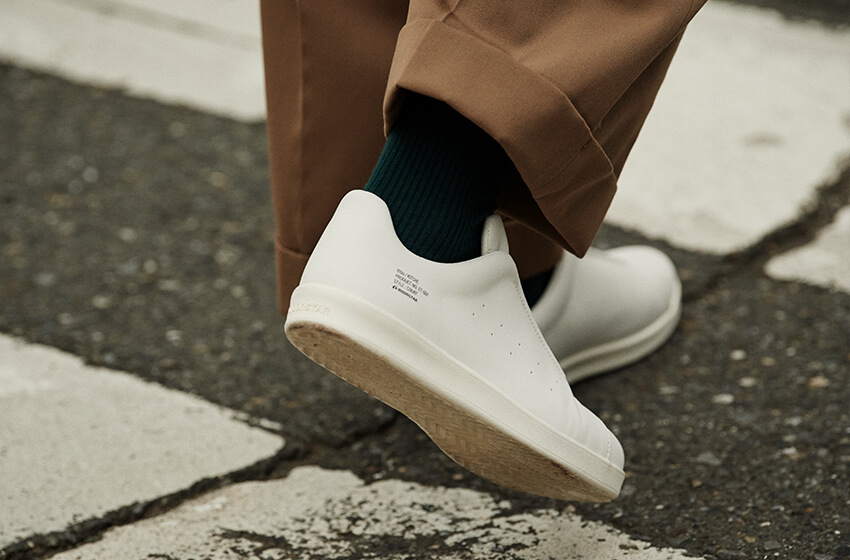 By combining the excellent functions of professional footwear with a daily-use perspective, a new originality has been created. This is how 810s was born, a simple yet highly original collection.

We will continue to make 'just the right' footwear for everyday use to offer a daily style that is uniquely your own.